As the economy gains traction, especially for hotel and restaurants, many areas are already seeing a staffing crunch.
Leverage Facebook to load open jobs connected with your business page and reach a different audience than LinkedIn or Indeed.
The roles that perform the best are entry level employees versus management roles.
Follow these steps to load jobs on Facebook and maximize local exposure. These steps are best completed on a desktop computer.
1 Update your Facebook Tabs so "Jobs" Show
When you are the main page of your Facebook business page, you should see the navigation under your business name. It will start with Home, then About then likely Photos and Reviews. Beside the More, there is a drop down arrow and an option to Edit Tabs. Here you will find that you can turn Jobs ON and also reorder your tabs.
You want Jobs to be in the first 4 so it shows up in that navigation. You can drag and drop the 6 dots to create the order you want.
The other way to update these navigation tabs is Settings > Templates and Tabs.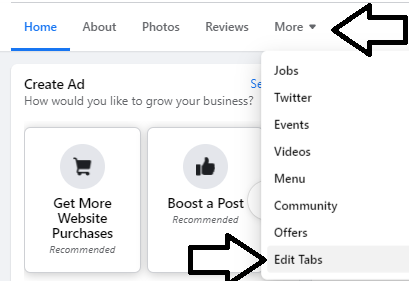 2 Add Individual Jobs to your Facebook Business Page
You can do a single post about a job on Facebook, and sometimes when you try to do it this way, Facebook will ask if you want to post a job.
But, to get in front of others that do not already follow your page, you want to add each job individually. In the Manage Page navigation on the left of your screen, there is a Manage Jobs tab. Click that and you will see an option to Create Job.

On the left hand side, you can update the Job Title, Job Type (Full Time, Part Time, Contractor, etc) and location.
It is highly advisable that you complete the full job description within Facebook and enter as much content as possible.
There are other options like: Salary Range and Screening Questions. We highly recommend entering Screening Questions to obtain the most qualified candidates and reduce the volume of people that are not serious.
You have the option to receive the application by email and require past employment or attach a resume.
NOTE about application process: Facebook does not give you the option to send them to another website to apply. When potential applicants click the Apply button, it will pull information from their profile and houses within the Facebook platform.
When you Create a Job via Facebook versus a post, it will show up on your page, but also distributes to the "Jobs on Facebook" audience. To see what jobs are available at nearby businesses in your area, you can visit Facebook Jobs.
While we have seen great exposure with this free audience targeting, some markets may need a Boost. This is where you put money behind the job to get in front of more candidates. We suggest starting with $25 per job.
The job is automatically posted for 30 days.
Repeat this process for each new position you need to promote.

3 – View Candidates' Application in Facebook
If you did not use the Email application option, you can view the candidates that applied back under the Manage Jobs tab. Once you click on that tab, you will see a list of Open Jobs and can View Application(s).
You can start marking candidates as Yes, No or Maybe and their contact information is made available (email and phone number).

Additionally, you will receive a notification with each new applicant. This can be found under Manage page > Notifications.