Google wants to suck you into their world, so you are dependent on them. And, hopefully spend more money in their world.
Here are some free tools you can use to help make data driven decisions and understand trends for your market and specific location.
Google Trends
Google Trends allows you to explore top search queries in real-time, daily, or a full year. It also allows you to analyze search terms that are relevant to your business.  
This is a great tool to use to watch for signals that the travel market in your area may be returning. Insert words with "city + hotels" and see when the downturn starts to trend upwards. If you are an independent hotel, you can see if and when people start to increase search for your hotel name as a positive signal.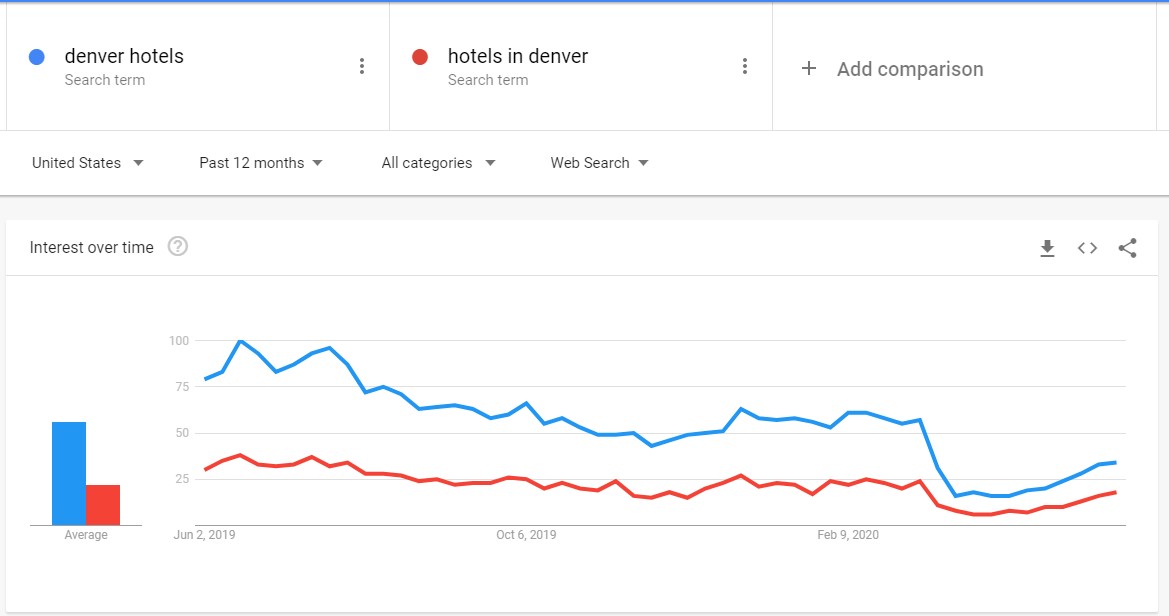 There is data that goes back to 2004 so you can easily view year over year trends. Also, you can align your Google Adwords and social media campaigns with this trend data. For example, let's say your hotel is interested in the cruise business. Sometimes the actual cruise season does not align with when people search and book for cruises. You want to run your campaigns for when people book and search, not actually travel.
Google Schema Checker
Google Schema Checker allow you to see if there is schema on a page and identify errors. Schema, or Schema.Org Markup, is a database of tags that you can add to your website, no matter the platform or the language.  It helps search engines read your website in a standardized way plus helps your rankings.  Additionally, your site may be able to show up for rich snippets.  Schema works well for Events, Product, Person or Place.  
For hotels specifically, you can also add unique schema related to your Organization, Zip Code, Offers, and FAQ pages. Incorporating repeatedly answered questions into your FAQ with proper schema may reduce call volume. For example, during this pandemic, many guests want to know if a hotel's pool is open.
To see if there is any Schema on your website, use the Google Schema Checker. Check multiple pages, as each page can have different Schema.Org Markup.
Google My Business
Google My Business gives businesses, especially brick and mortar locations, an opportunity to come up on Maps and various searches. If you do not have access or need to create a listing, you can start at business.google.com. Be sure to fill out as much information as you can, especially photos. This is where you can change your primary photo that shows up on the knowledge graph.
For all hotels, you really want to focus on Hotel Attributes under Info. This is where you can update your services and amenities. It continues to change so update quarterly.
For branded hotels, if you don't have access, you can request access from the brand by contacting the below:
Marriott – Fill out eFast form (efast.marriott.com) > Log in using your EID > HWS Forms Submission Tool > Local Search Engine/ Map Request Form
Hilton – Input ticket to http://hiltonecgsupport.com/ > Under Where Do You Need Assistance select Local Listings / Online Directories then Google My Business under the next question
IHG – Email channels@ihg.com
If you are a branded hotel and don't get access to your Google Analytics or Omniture, there are Insights in Google My Business that gives you some data points. You can see queries used to find your business, what actions they are taking from your GMB listing (Visit Website, Request Directions, Call You), phone call volume, photo views and more!


Google Search Console
Google Search Console is a free tool that helps website owners understand how they are performing on google search and what can be done to improve appearance on search to bring more relevant traffic to your website. Here is an introduction to Google Search Console. Since the majority of keyword data has been removed from Google Analytics, this tool is the best source of truth for keyword data.
Performance metrics include impressions and click data down to the keyword and landing page level. Even more importantly, this is where you submit your XML sitemap to Google for indexing. Crawl errors can be reviewed to determine if Google has issues reading your site.
You can also link your Google Search Console and Google Analytics together so you only have to log into one platform (Google Analytics) for many data points.
Google Analytics
Google Analytics allows you to track your website traffic. There are quite a few types of analytical reports that can be pulled including:
Website Data – this will show you website sessions, users, bounce rate, and session duration for the selected time frame you want to view.
Real-Time Reporting – Real-time reporting is in fact, real-time. This will show you how many active users are on your site right now as well as their location.
Audience – Here you can pull an overview of how many users have been on your site, user demographics, how many new and returning users, what type of devices users are using to view your site, and more.
Behavior – Behavior will break down a lot of things for you including how many views each page of your website has received, bounce rates, and time spent on each page as well as site speed.
Another great aspect of Google Analytics is that it can be integrated with Google Ads which allows you to create campaigns and track conversions.
You can train on Google Analytics for free in the Google Analytics Academy
Google Data Studio
Google Data Studio allows you to create automated reports and easily customized dashboards to showcase your Google Analytics and Google Search Console data. The reports bode well to display the data visually so it is easily comprehensible and you can easily identify trends.
You can combine multiple Google Analytics reports into one cohesive report. Whether you are using for high-level data for your website or want to deep drive to granular data on a specific campaign or segment, Google Data Studio can do it. And, you don't need to have any coding skills or complicated set ups to implement.
The Google Suite of products is immense. But, if #alwaysbelearning is your mantra, then their free products are a good place to start!