There is a lot of debate about not being overly dependent on your OTA (Online Travel Agency) partners and what it does to your profitability.  But no one can deny the exposure they provide nor can any brand compete with their marketing budgets. It's a necessary evil, so you need to optimize your OTA profiles to keep them up to date, and it's free.  
Why should I do OTA Optimization?
Ensure you are telling a consistent story about your hotel across all online channels

Increasing your content score affects your organic rankings on that OTA

The brands feed over some content and imagery, but the systems don't always speak the same language

Reduce guest confusion at check in

And…It doesn't cost any money to do it
What OTA Channels should I Audit?
Expedia and Booking (Holdings) are the 2 big ones.  Most other OTAs fall into their umbrella and feed from their respective extranets.  Expedia has over 150 websites in 70 countries, per their affiliate site.  The big ones under the Expedia are Travelocity, Orbitz, Hotels.com, Trivago, HotWire and CheapTickets.com. Booking Holdings, previously Priceline Group, primary use the Booking.com extranet for their content and images.  They own big names like Kayak and Agoda, and of course Booking.com and Priceline. These 2 conglomerates own 8 of the 10 most popular travel websites of 2018, excluding Yahoo Travel and TripAdvisor.
How to Audit your Booking.com Profile
Once you have a log in, head to admin.booking.com.  Under Property, start with your Page Score. You want that as close to 100% as possible.  The system will identify what sections need attention with red bubbles. If you are a branded hotel, the big focus categories are: Facilities and Services, Room Amenities, Photos and View your Descriptions.  View your Descriptions is unique to Booking.com and extra attention should be devoted here.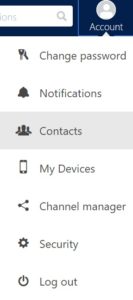 Audit your contacts.  This is not necessarily who has log in access. In the top right hand corner, there is an icon that says Account and you will see Contacts in the drop down.  Ensure someone is listed in every category. Use generic emails when possible, as most GM and Sales positions have a standardized email through the brand. This will help if/when you have employee turnover, which is bound to happen.  Or, maybe a front desk generic/shared email will work for some categories.
Booking.com Photos
Photos are likely to be the biggest hurdle to OTA optimization in Expedia.  Booking.com requires 4 images per room type, and depending on when the images were shot, you may just not have them.  Try loading the following: 1 room image, 1 room amenity close up, 1 bathroom image and 1 bathroom amenities image. Also ensure proper tags are assigned to every image.  It is important to note that none of the brand systems feed images to Booking.com, so if you have rogue images on maps channels, start here in your audit.
Hopefully, there is a designated person at the hotel responding to reviews as well.
How to Audit your Expedia Partner Central Profile
For Expedia, you will need a log in to expediapartnercentral.com. As with
Booking.com, you will check your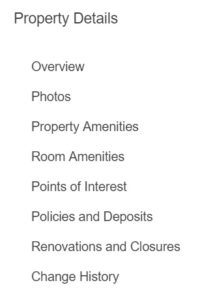 score out of 100% under Property Details > Overview.  You will want to focus on similar sections again for accuracy: Photos, Property Amenities and Room Amenities. Even if your overall scores look good, it is a good practice to go through each section and confirm for accuracy.
Unique to Expedia is Points of Interest, where you can highlight 10 places. Some you can pre-select and others you can submit for review. Unfortunately, the description (or paragraph content form) on Expedia is much harder to modify.  If you can't determine where the content is pulling from, email their support department at hotelhelp@expedia.com and reference with your hotel ID (found in top right hand corner by your hotel name).
The other issue that is sometimes problematic is how the room names translate into Expedia world.  Sometimes, the bed types are incorrect or some names are duplicated and not differentiated. This is usually fed from the brand as well, so reach out to your market manager or put in a ticket with the help desk above to get assistance.
Expedia Photos
For photos, each brand uses a system that pushes them to Expedia.  So, if you just loaded images on your brand website, give it a few days and they will show up in Expedia Partner Central.  If you submit them manually, you will end up with duplicates. Even once the images feed from the brand, you will need to organize them and associate them with respective room types.  Expedia also requires 4 images per room type but this should mirror the brand site anyway.
Similarly, ensure someone is assigned to respond to reviews under Guest Relations.
A Few Tidbits to Auditing your OTA Presence
After both audits are done, give the systems time to recalculate your scores and push the changes to content and images live.  Once live, review the live site, as if you are a guest and review again.  
A last word of advice is to engage with your respective market manager during need times.  Yes, sometimes at the cost of higher commissions or lower rates, but continued relationship management will assist in times of low occupancy.
This post about OTA optimization helps increase your content score, thus your organic rankings.  It does not factor in paid or discount platforms that provide better placement.  Sometimes you will get an email from Expedia that your quality score has dropped and many times they are looking for the member rate to be added. This how-to is about your content score.  Nor, does it take into consideration the billing and invoicing side of each OTA. Just as with your own website, a yearly review of the content and images (at a minimum) should help you put your best online foot forward.