MozCon is a yearly search engine optimization conference held in Seattle.  I use their Moz Pro product for things like keyword research, rankings, link opportunity finder and crawl errors but this is by no means a paid post.  
Let me state up front: I do not do SEO full time.  I'm a digital marketer focused on hotels, but I found the conference content extremely useful.  But, for more engrossed "SEO-ers" maybe you already knew a lot of this.  
Here is a power list of their "best of" from this year's conference with actionable suggestions you can implement today. It is organized by topic, unlike most recaps you may see.
MozCon Hot Topics
There was a lot of talk over all about Knowledge Graph, Featured Snippets, Voice Search and PAA (People Also Ask).  My findings are focused around PR, Visual Search, Google My Business (GMB), Blogging, Voice Search, Google Ads and tools that are new to me.  
The general consensus is that Google is trying to keep you on Google and answer searcher questions without having to click on a website.  Since it is hard to track and attribute the value of Knowledge Graph and PAA, where does that leave us?  We live in a new world of "no click search" where Google understands search intent and can serve up answers quickly, sometimes even within keyword complete. 
From the Mouth of Rand  
Rank Fishkin of SparkToro, previously of Moz, is one of those that is waiting for the voice "hype" to pass.  He feels if you optimize for mobile and search, you should be set for voice. The answers served by your smart speaker don't vary from your mobile searches.  
The good news? Searches continue to rise and Google is still sending 66% of search traffic. In Q1 2019, here is what happened with Google searches from JumpShot: 
Organic clicks 41.45%

Paid clicks 3.58%

Alphabet 6%

Zero click 48.96%
From Moz  
Dr Pete, of Moz, pointed out a lot of the obvious, but only obvious seems after he pointed it out.  The PAA (People Also Ask) feature, often shows up after you ask a question. If you are writing a blog to answer a question, consider giving a short form answer at the beginning of the blog, then the details, then the supporting data.  Moz's platform has a Featured Snippet Ranking tool.  
Rand factoid: In 2018, Google had 3234 "improvements".  
From Brittany Muller of Moz, there is a "has questions" filter in Keyword Explorer in Moz.  Adding that to the tool belt.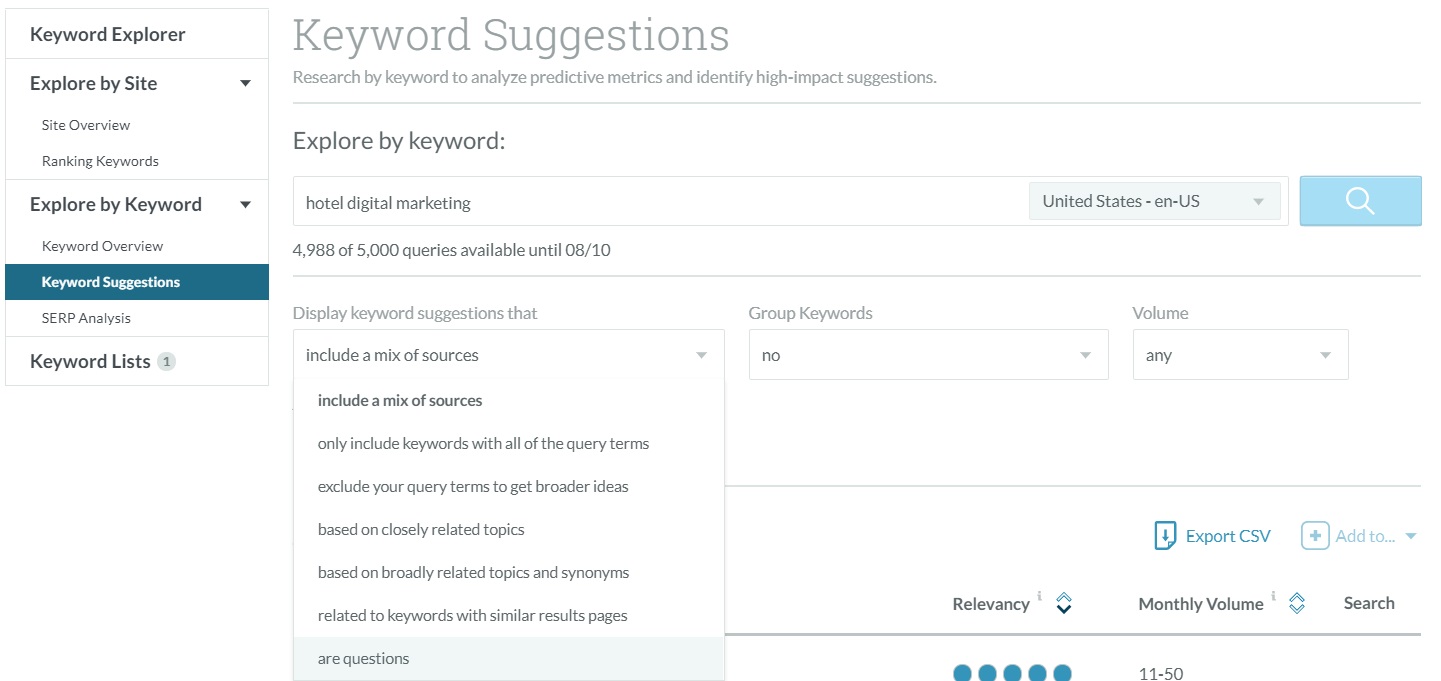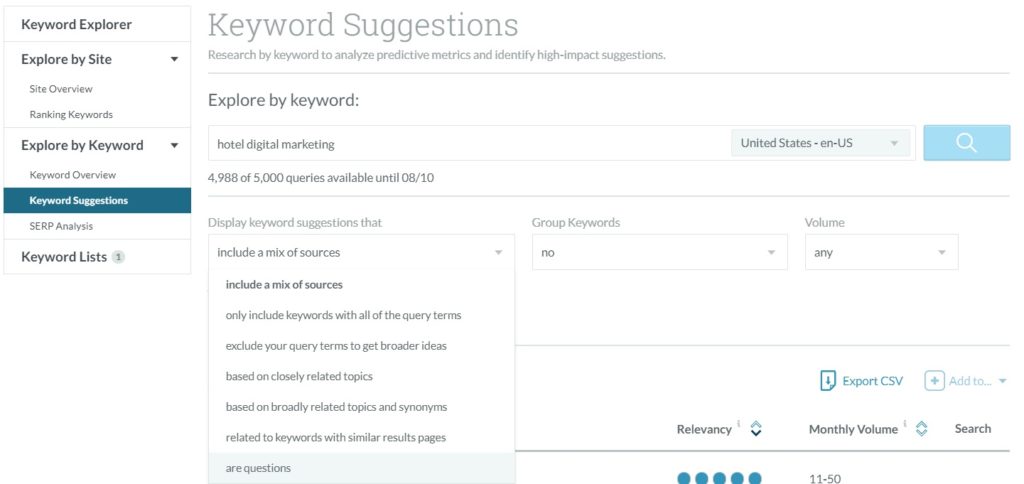 Public Relations
For a little PR boost, Shannon McGuirk gave us a breakdown. Give journalists the right content at the right time. She broke it down into planned editorial, reactive editorial and planned reactive editorial. 
In hotels, we mostly focus on planned editorial, ie when a hotel opens, changes flag, has an event. But, what if we served our hotels on a silver platter when the timing was ripe. Follow #journorequest and #prrequest on Twitter to find what journalists need NOW.
Marie Haynes also suggesting partnering with HARO.  Get journalists to follow you for when they have an upcoming story.    
Visual Search
This concept of visual search presented by Joelle Irvine is fascinating to me.  Google Photos has a built-in "Lens" function for visual search.  (I immediately zoned out at the conference to start playing with it.) Using the iPhone screen recording I mention later in Tools, I recorded this video on how Google Lens works and could substantially impact a shopping experience.  Pinterest also has a "complete the look" feature that uses similar technology. To increase the likelihood that your images will show in Google Image Search, submit an image site map.  
Google My Business & Local Search
I want to start a new hashtag – #BeLikeMary. Mary Bowling has had many careers and most recently it has been dedicated to local search.  I even got to sit with her at lunch one day – and I want to be like Mary – just because she seems to live her life so passionately.
Mary says the local search algorithm depends on relevance (does the business provide attributes and service), prominence (is the business well known within the industry) and proximity (distance from searcher which is very fluid).  She recommends:
Use Google Q&A to your advantage.

 She suggested ASKING then ANSWERING your own Google My Business questions.

 (This was not the only speaker that recommended this but seems a little "gray" hat for me. Greg Gifford said the same.)

Make sure you fill out both Products and Services sections of GMB.  
Darren Shaw also presented on Google My Business (GMB) and had all sorts of tidbits to share. 
Did you know you can add a 2nd phone number to GMB?

 So, if you want to use a tracking number and not get dinged for UNAP, add it into GMB.  

Google posts only help if you get engagement.  

His theory is backlinks only help to a point.  There is a law of diminishing returns. Once you reach parity with your competition, they hold less value.  

If you are tracking local rankings, don't track from the city center.  Track from multiple zip codes.
There was a trend about GMB – see also Joy Hawkins. She stated reviews account for 15.44% of how Google ranks a local business. I think we all knew were important, but maybe not how important.  There are also a ton of fake GMB listings that are created by lead generation spammers.  Google removed 3 million in 2018 alone.  
The Wall Street Journal did a story on fake Google Maps listings in June 2019.  If you encounter this, fill out a Business Redressal Complaint Form or for any businesses not following policies.
Google My Business Posts
Following the Google My Business them above, Greg Gifford focused on the nuances of Google Posts.  Admittedly, I don't play in this much, so this was helpful. 
Posts stay live 7 days unless you use a date range

Image suggested size is 1200×900.  But, note they crop differently on mobile versus desktop, so don't put anything in the top or bottom.  Stay in the "safe zone" – PSD can be downloaded at bit.ly/posts-image-guide

Videos – Limit the size to 100mb and/or 30 seconds

Characters are limited and depend on the post template. Using any call-to-action (which you should) reduces the possible volume of text even more

Posts should always be promotional

Any clicks from a GMB post show up as direct in GA

Don't include phone number or URL in answers or they will be filtered out
Google Ads
Wil Reynolds wins the award for the most cussing on stage.  He wants us to stop spending the wrong money with Google. The machine learning rules for Google Ads is different than with organic search.  He does super informative videos on the Seer YouTube channel.
Target zero volume searches

Adding more negatives is where you can save more money

Dive into the "stem words" 

"Exact match keywords" does not exist (This article from

WordStream

even has a hotel example.)
Voice Search
Per Christi Olson, 69% of respondents have used a digital assistant and 75% of households will have at least 1 smart speaker by 2020.  As discussed, search is moving from answers to actions.  
40% of spoken responses come from Featured Snippet.  So, figure out Featured Snippets and chances are better that you will rank for voice search.  
Currently, there is a voice (speakable) schema for news articles only.  TBD if/when that will expand.  
Blogging
If I had heard this speech last year, I wouldn't have cared.  Now, with my own blog, I was hanging on every word by Andy Crestodina.  Even though your blog likely doesn't convert, the blog is what gives your website domain authority.  
Andy believes there is no reason to write new content if your existing content isn't the best content on that topic. Focus on those search queries that are hovering around page 2 for the lowest hanging fruit and update that content.  
When you contribute to another publication or blog, write new content for them but include an image source linking back to your blog, especially if that page ranks on page 2. 
When rank is slipping, do an 80% page rewrite to get back to the top.  Use the same URL when rewriting page content!  Consider your blog URL format for repurposing later on:  no numbers, no formats.  
Turn your top post into a video.  

"When you find a unicorn, make baby unicorns."  

Consider not only writing how-to posts but not-how-to posts. 
Tools, Tools, Tools  
Casie Gillette was sharing her favorite (mostly FREE) tools left and right, spitting them out faster than a gumball machine.  I could have done an entire blog post on her presentation alone. Use these tools to create content for all stages of the funnel.  P.S. "Screw word count" and "Stop with the shitty stock photos".  (I may be guilty of quote #2, sorry Casie.)
BuzzSumo – Has an influencer tool

Keywords Everywhere – A browser add-on for Chrome & Firefox that shows search volume, CPC & competition 

Kparser.com – Know what people care about per channel (ie youtube)

Storybase – Know the questions people are asking

Screaming Frog – You likely are familiar with this tool, but take it to the next level with

Seer Interactive's How-To Guide

. One presenter, Luke Carthy, geeked out hard on how to use custom extraction from Screaming Frog.

Esummarizer – Shorten content to make it easier to read

Remove.bg – Remove a background image from any picture *Mind blown*

Snappa – If you like Canva, try Snappa

Recordit.co – Record fast screencasts

iPhone Hack – Create a

screen recording

or capture sound on your iPhone

Fiverr – Create any image into a vector image. (Complements of Russ Jones) 

Free CDNs (Content Delivery Networks) with WordPress plugins – Most popular being CloudFlare. (Complements of Russ Jones) 
Whew! That was a mouthful.  Full slide decks are available via Moz.  If you have your own feedback to share from the conference, please share below!
Credits (As if these awesome people need another backlink):
Rank Fishkin of SparkToro, Dr Pete of Moz, Brittany Muller of Moz, Shannon McGuirk of Aira, Marie Haynes of Marie Haynes Consulting, Joelle Irvine of BookMark, Mary Bowling of Ignitor Digital. Greg Gifford of wikimotive, Darren Shaw of Whitespark, Wil Reynolds of Seer Interactive, Christi Olson of Microsoft, Andy Crestodina of Orbit Media Solutions, Casie Gillette of KO Marketing, Russ Jones of Moz