Hotel MetaSearch websites allow consumers to search for hotels then compare prices across many websites at the same time. If the hotel in question is in parity across all channels, the transaction likely goes to the top placed website. If the hotel is not in parity, the potential guest is likely to choose the site with the lowest price. But, the transaction happens on a 3rd party website, not on the MetaSearch engine site.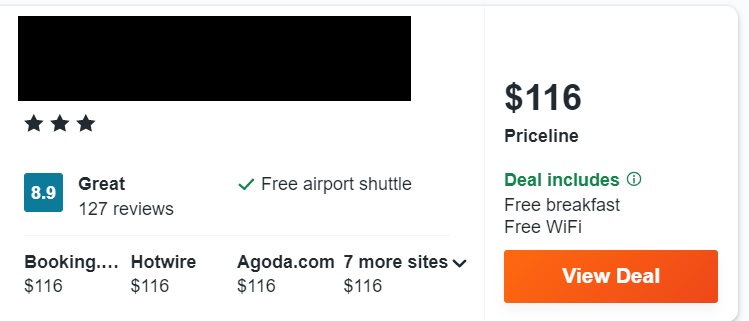 What is MetaSearch Advertising?
The goal of MetaSearch advertising is to outrank OTAs and other sites and shift the transaction to your own website. A user must be looking for YOUR hotel and rates for the MetaSearch option to be available. This is part of a hotel's "book direct" strategy.
What is the Difference Between a MetaSearch and OTA Website?
A MetaSearch site and an OTA site are not the same.
An OTA site, ie Expedia and Booking.com, have their own rates and inventory. You can book via their websites.
A MetaSearch site, ie Kayak and Trivago, collect rates from hundreds of websites so a potential guests can compare prices. The transaction happens off-site and no money is collected from a MetaSearch Sites.
The most popular OTA Sites are:
Expedia
Booking.com
Hotwire (Part of Expedia)
Priceline (Part of Booking.com)
Agoda (Part of Booking.com)
The most popular MetaSearch Sites are:
Google Hotel Ads
TripAdvisor
Kayak
Trivago
Google Hotel Ads MetaSearch Product
It becomes very confusing because both Google and TripAdivsor have multiple products.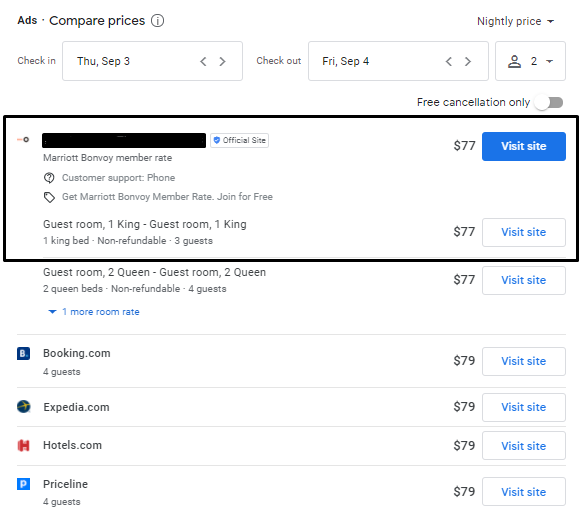 Google Adwords is where you can buy search terms (PPC = Pay Per Click) and run display ad through their networks of sites.
When you do a search for a specific hotel name, on the right hand side, the Google Knowledge Graph will appear. The information within the Google Knowledge Graph pulls content and images from a variety of sources including Google My Business.
The calendar and rates display section is called Google Hotel Ads.
TripAdvisor MetaSearch Product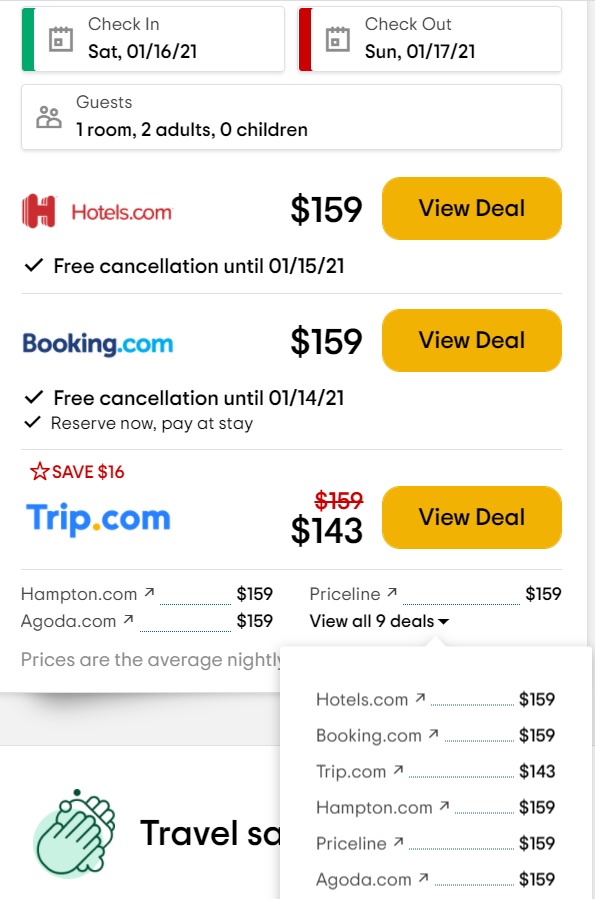 TripAdvisor Business Listing is where you pay a yearly fee to have your contact information loaded on TripAdvisor. It also allows you to load offers and a few other features.
TripAdvisor Sponsored Placements offers you more exposure and higher rankings so you can rank in TripAdvisor search even if you have poor reviews.
Through TripAdvisor Media Manager, you can buy display ads where you design your own ads and do geotargeting and retargeting towards behavioral traits and destination search. Minimum spend of $500.
To see TripAdvisor MetaSearch, you have your be on the specific page of a hotel. When using the calendar to see rates, there are different sites vying for premium placement.
Note parity issues, like the the screenshot, will render your MetaSearch campaigns ineffective.
Example of TripAdvisor MetaSearch where Hotels.com has Premium Placement
Should I Invest in Hotel MetaSearch?
The answer: It depends.
There are a lot of variables at play when advertising in MetaSearch.
What is your OTA commission rate?
What is your "book direct" conversion rate?
How competitive is the bidding for your hotel and market?
Do you have a comprehensive marketing strategy, or is MetaSearch your only strategy?
This article breaks down some of these scenarios so you can determine if MetaSearch advertising is right for your hotel.