Updated November 8, 2023

Expedia TravelAds Sponsored Listings, Expedia Groups flagship performance product, has been a necessary paid media tool for hotels to secure premium and additional placement across Expedia Groups brands. When you run Expedia TravelAds, you get the Expedia network which includes other sites like Hotels.com, Orbitz and Travelocity to name a few. TravleAds is continually evolving their ability to target travelers by offering more direct targeting parameter and enhance reporting to provide partners with ability to track and optimize performance
Koddi is a preferred platform selected by major brands, like Marriott, Hilton, IHG, Hyatt and Wyndham, to assist in running Expedia Travel Ads. But, each brand calls the Koddi Private Market platform something different:
Marriott – PLUS
Hilton – Amplify
IHG – Boost
Hilton – Top Up
Wyndham – LevelUp
This has led to a lot of hotel owners' confusion. We hear, "Should I run my ads directly through Expedia Travel Ads website or go through Koddi?"
Here are the pros and cons for you to decide.
Hotel Paid Media and Advertising
Expedia Travel Ads and Koddi both include similar data sets when it comes to individual hotel data that you can see.
Daily Ad Spend
Clicks
Average CPC (Cost Per Click)
Impressions
Average Rank
CTR (Click Through Rank)
Revenue Clicked / Exposed
Room Nights Clicked / Exposed
ROAS Clicks / Exposed (Return on Ad Spend)
Reporting Differences
In Koddi, much of your hotel's paid advertising can be in one place.  For many hoteliers, like those under brands such as Marriott, Hilton, IHG, Hyatt and Wyndham, the Koddi platform allows hotels to manage a number of channels in one place. Other channels outside of Expedia Travel Ads includes Metasearch, Display, Social Media Retargeting, Paid Search, Priceline Sponsored Listings, and Booking.com Native Ads.
Targeting Parameters
Both Expedia TravelAds and Koddi offer the same targeting to allow hoteliers to customize where and when their ads display. Expedia TravelAds and Koddi both provide the same targeting parameters to hoteliers. You can manipulate the following strategies in each platform.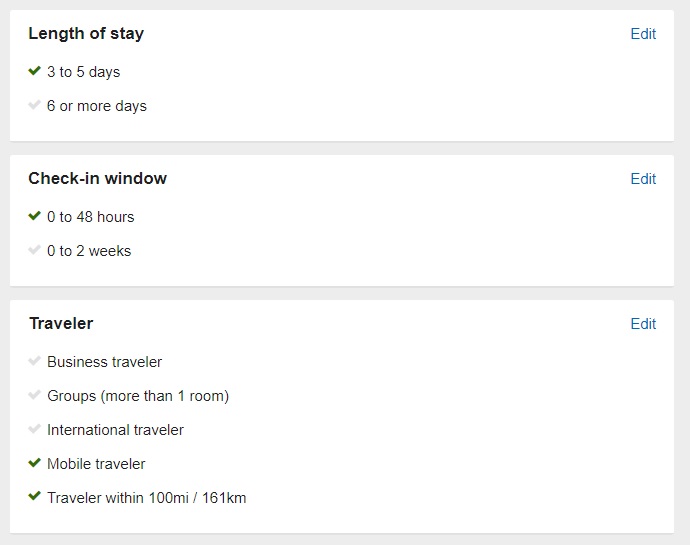 Writing custom ad copy
Setting your daily budget
Setting up your bids
Target by Weekdays and Weekends
Target by travel window (0-21 days from booking or 22+ days)
Target by Country
Scheduled ads to target distinct stay dates
Competitor data (Average CPC, Clicked ROAS, Daily Spend)
Targeting Tools/Bid Enhancers
Hotel Funding 
Through Koddi, select major hotel brands occasionally offer a percentage of fund matching to incentivize you to use Koddi. The percentage changes often and each of the brands do not always offer a fund match. Pay attention to the offer, as sometimes it only applies to select channels within Koddi. But, why not take advantage of free money?
In Expedia Travel Ads, you can select from 3 funding/payment options: direct bill, post bill and credit card. That means on Expedia you can get access to funds immediately to run campaigns, even though Expedia has not yet received the funds. Note, select brands bill via the franchise invoice via Koddi, offering a similar option.
Strategic Support
You can reach out to your Koddi Support for any help with setting up your bids, scheduling your ads or advanced targeting. But, you are not likely to get a dedicated account manager. Because you can advertise across many channels from a single place with Koddi, their recommendations are generally more holistic. Koddi's platform also includes the same market insights you see in the Expedia TravelAds tools. Koddi does not provide market insight to help in understanding your specific market.
Every hotel has a designated Expedia TravelAds account manager that provides market trends and insights. You are able to discuss data/insights/trends to better align your strategy for maximum results.    
Last Points When Deciding to Use Koddi or Expedia Travel Ads
Once funds are deposited into either Koddi Travel Ads, you cannot move it around. 
Additionally, reporting history is only available via the avenue you loaded it.
Koddi sometimes reflects a error when pulling real time data.    
Koddi's platform includes advanced automation tools for TravelAds that update your bids daily and automatically to adjust to market conditions.
The Final Decision
At Cogwheel Marketing, we feel it depends on the brand and how the brand works with Koddi, specifically. As each brand handles funding differently, this is where the true difference lies, depending on the accounting structure of the hotel and the funds available. If you are part of a brand or independent hotel that manages driving room nights through OTAs then working directly with your Expedia TravelAds account manager may be a benefit to you to help maximize your goals.
If you need assistance strategizing on any platform, please reach out to: