Can we get back to in person meetings? I think everyone, at this conference especially, can appreciate that sentiment….
With that said, the virtual HSMAI DC State of the Industry meeting on September 24, 2020 was still jam packed full of great content. Ellen Wilson at the HSMAI DC team were prepared to still put on a show!
The gracious presenters for the General Session were:
Jennifer Hill of Kalibri Labs – Recovery is going to vary, and evolve, by market and hotel type/tier. The current trends for recovery show OTA and the Brand Loyalty Member Rate programs in a tight race for demand share. These are going to be the segments every hotel should keep an eye on. Your key to success as you transition to recovery is going to be knowing the rate category and channel volume in your market (now and predicted for the future) so you can plan optimally.
Elliott Ferguson of Destination DC
John Hach of TravelClick, an Amadeus Company
Sales, Marketing & Revenue Management Breakouts
The conference attendees then broke out into one of 3 breakout sessions that divided commercial strategy into Sales, Marketing or Revenue Management.
Tim Wiersma of Revenue Generation led the Revenue Management Breakout. In the below presentation, learn about the following highlights:
Consumer sentiment: Consumer uncertainty has increased since Covid19 began.
Drive Stats: Drive traffic is key; Consumers are willing to drive longer distances today to "get away" especially to national parks and attractions.
Pricing: Consumers do look at pricing but more important they are looking for assurances (safety and experience) when making buying decisions.
Silos: No more silos should exist between disciplines. Revenue Management plays a strong role in providing strategic analysis and communicating opportunities to Sales and Marketing.
Holly Zoba of Influencer Sales led the Sales breakout. Holly's group had open discussion with various sales executives. A popular topic of conversation was what sales we need to add to our tool kit. There is plenty of tech, even for branded, hotels, to make business research easier. Also, what kind of strange inaugural year it is going to be. One interesting question involved how they are spending their time. This word cloud provides their responses – any surprises?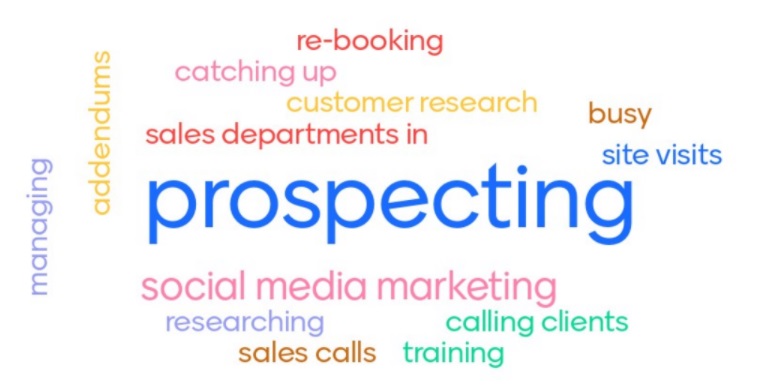 Stephanie Smith of Cogwheel Marketing lead the Marketing breakout. We had an small but engaging group. The following topics were covered:
Marketing Recovery Best Practices
Lean into OTAs (and How)
Keep Up your Skills