Each brand has slightly different channels and opportunities within Koddi, but most are fairly similar.
But, you need to understand WHEN and HOW to use each channel based on your hotel needs. You don't have an unlimited budget, so choose wisely.
Direct Media
MetaSearch
Description: A search engine that displays rates across multiple websites for one hotel. For a more detailed look into metasearch, check out our blog "What is Hotel Metasearch."
Goal: Channel Shift away from OTAs. Capture more direct bookings from OTAs for consumers looking at/searching for YOUR hotel.
Avenues: Google Hotel Ads, Kayak, TripAdvisor, Trivago
Note: There are multiple ways to advertise on Google, Kayak and TripAdvisor.
When Not to Use it: When you are looking for incremental revenue or if your hotel rates are NOT in parity. Check out our blog on why Cogwheel did not suggest metasearch use during the peak of the COVID-19 pandemic. Use percentage of OTA contribution to Channel Mix to determine if you should participate.
Sponsored Listings
Description: A sponsored listing increases exposure to an organic listing on a website or app by boosting its listing to the top in the ad space when searching for a destination. Sponsored listings can always help in contributing room nights and revenue to your property.
Avenues: Google Property Promotion Ads, TripAdvisor Sponsored Placements and Kayak Sponsored Listing
Note: This is different than MetaSearch above.
Goal: Engage with an audience that shows interest in staying somewhere like your hotel by boosting your hotels listing via paid advertising.
When Not to Use it: If you already rank #1 in organic search. If your TripAdvisor reviews are poor, do not do TripAdvisor Sponsored Listing.
Paid Search (SEM)
Description: Paid search is exactly what it sounds like, paying search engines for ad placement on SERPs (Search Engine Results Pages). This availability and functionality differs per brand.
Note: You will not get total control over keywords or ad copy or strategy compared with a 3rd party vendor, but you can have more confidence it is aligned with the brand strategy.
Goal: Increase higher funnel traffic and exposure for your hotel by using non-branded, targeted keywords relevant to your hotel.
When Not to Use it: When organic ranking is #1.
Display
Description: Target relevant users who have characteristics or behaviors that look like a booker/guest who would visit your hotel. Also identifies users who are in market to travel to your destination. Only available via certain brands with high minimums.
Goal: Impressions to increase Brand awareness / top of funnel
When Not to Use it: If you are only interested in bottom of funnel and conversions.
Social
Description: Serving remarketing via paid social media ads across Facebook and Instagram (some brands). If a potential guest visits your brand website, but did not book, they may go into the remarketing pool, they may be shown an ad for your hotel in their Facebook feed. Minimums range from $100 to $500. Each brand differs on strategy and offerings.
Goal: Increase direct conversion rates for your hotel for people that are already familiar with your brand and hotel.
When Not to Use it: If you are interested in using the targeting parameter features that Facebook offers. Or you want greater control over your ad copy and imagery.
OTA
Expedia Travel Ads
Description: Pay-Per-Click Advertising on Expedia and Hotels.com. Funding travel ads boosts your listing in its market and allows you to highlight your hotel before a guest even clicks on the ad.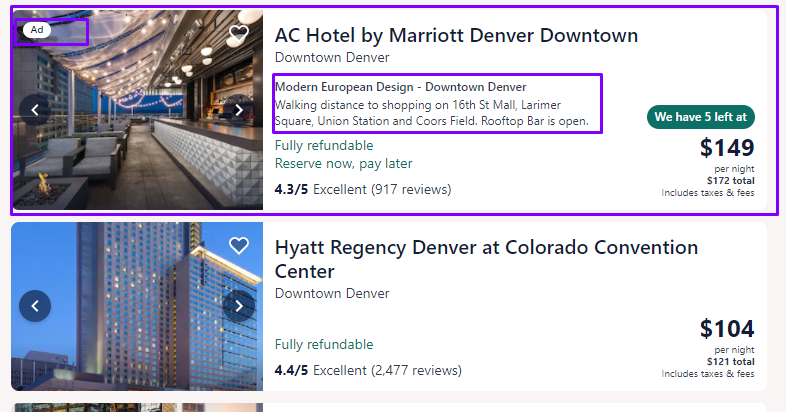 Goal: Increase exposure on Expedia.com and target specific need dates.
When Not to Use it: When you are trying to reduce your OTA dependency or your budget is too low to truly compete with the competitive set or if you are already running ads directly via Expedia TravelAds platform / Expedia Group Media Solutions. If you are unsure which platform to use, here is our Expedia / Koddi comparison blog.
Priceline Sponsored Ads
Description: Similar to Expedia TravelAds but on Priceline. Only offered by select brands.
Note: This is the retail side of Priceline, not the opaque side.
Goal: Increase exposure on Priceline.com and target specific need dates.
When Not to Use it: If your market gets little traffic to Priceline.
Booking.com Native Ads
Description: Similar to Expedia TravelAds but on Booking.com but you cannot modify text highlights or imagery. Only offered by select brands.
Goal: Goal: Increase exposure on Booking.com and target specific need dates.
When Not to Use it: If your hotel is already in the top 5 organic placement on Booking.com, your ad will not show.
Defining your Hotel Strategy in Koddi
Select brands offer support to help you build campaigns for your hotel. Others offer training so you can do it yourself. The platform also provide budget recommendations, but ensure this aligns with your hotel's goals.
Any hotel can gain access to their hotel's account by emailing pm.support@koddi.com.